Editorial Feature in the Johnson & Wales University Magazine
Couple Builds Hopeful Remembrance
Johnson & Wales University Magazine, Winter 2008
Emotion floods all thought when a parent's worst nightmare becomes reality. But in the too brief 90 minutes in November 2006 when Kevin and Nicole Flynn Baranowski '02 held their dying newborn son, they made a promise: "You will never be forgotten". And in their grief, the couple vowed to help fight the lethal form of skeletal dysplasia that claimed Luca John's life.
The New Jersey couple learned their unborn son suffered from short rib polydactyl syndrome, one of more than 200 types of skeletal dysplasia, when Nicole was five and a half months pregnant. "It was just absolutely crushing. This kind of news is just a blow," Kevin recalls. "We looked for a cure – and option for his survival – and we found none."
Now, through the Luca John Foundation, the nonprofit the couple established in their son's memory, they fund research into the gene code responsible for the syndromes. Contributions will only go to institutions that serve families free of charge.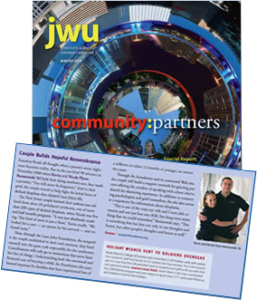 Understanding both the emotional and financial cost of burying a child, the foundation also pays funeral expenses for families that have experienced loss of a stillborn or infant 12 months or younger, no matter the cause.
This is one of the ways my wife and I were able to mourn and not just lose our child, but hang onto something that we could remember… [he's] not only in our thoughts and hearts, but other people's thoughts and hearts as well.
Through the foundation and its connected Web Site, the couple will build a support network for grieving parents offering the comfort of speaking with others who've shared the shattering experience. In addition to connect psychologists and grief counselors, the site also serves as a repository for information about dysplasias.
"This is one of the ways my wife and I were able to mourn and not just lose our child, but hang onto something that we could remember," Baranowski says. "This is something that has him not only in our thoughts and hearts, but other people's thoughts and hearts as well."