Jersey'sHelpingHands
[su_row][su_column size="1/2″]Who: Kevin and Nickie Baranowski of Ewing.
What: Co-founders of the Luca John Foundation, named in memory of their son, who dies shortly after his birth from a form of skeletal dysplasia.
Mission: There are two missions, according to the foundation's Web site: to fund research to find the gene code responsible for the syndromes associated with skeletal dysplasias, and to assist with funeral expenses for families who have lost a child at 12 months or younger, or have had a stillbirth.[/su_column]
[su_column size="1/2″]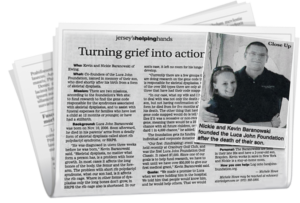 Click to read the full article
[/su_column][/su_row]
Background: Luca John Baranowski was born on Nov. 10, 2006. Soon afterward, he died in his parent's arms from a deadly form of skeletal dysplasia called short rib polydactyl syndrome, or SRPS.
"He was diagnosed in utero three weeks before he was born," Kevin Baranowski said. "Skeletal dysplasia, no matter what form a person has, is a problem with bone growth. In most cases it affects the long bones of the body, the femur and the forearm. The problem with short rib polydactyl syndrome, what our son had, is it affects the rib cage. Where in other forms of dysplasias only the long bones don't grow, in SRPS the rib cage is also shortened. In our son's case, it left no room for his lungs to develop.Content
"Currently there are a few groups that are doing research on the gene code that is responsible for skeletal dysplasias. Out of the over 250 types there are only about three that have had their code mapped.
"In our case, what my wife and I had to deal with was not only the death of our child, but not having confirmation of which form he died from for five months after his death. The other thing that having the gene code mapped would do is tell the families if it was a recessive or non-recessive gene, meaning there would be a 25 percent chance with all future children, or the standard 1 in 4,000 chance," he added.
The foundation gets its funding from individual and corporate donations.
"Our first (fundraising) event was held recently at Cranbury Country Club, and was the first Luca John Foundation Golf Classic. It raised $7,000. Since one of our goals is to help fund research, we have to wait until we have over $50,000 to give our first medical grant," Kevin Baranowski said.
Quote: "We made a promise to Luca when we were holding him in the hospital. We told him that people would know him, and he would help others. That we would still do our job as mommy and daddy and help him be responsible for helping other children and their families," Kevin Baranowski said.
Personal: The Baranowskis are both in their late 20s and have a 2-year-old-son, Brayden. Kevin works in sales in New York and Nickie is a stay-at-home mom.
How you can help: Log onto lucajohnfoundation.org.